Our trikes are build not only for racing purposes, but also for daily use or trips. Trike riders are mostly disabled people with many different disabilities. We build all the trikes based on customers` request and equip them by large variety of components.
Our trikes are usually build with 26″ wheels and 80cm track of rear wheels however we also build racing trikes with 700c wheels and 90cm track. This specification increase the speed and also improve the stability. Our racing trikes also have rear "bumper". We call them "RS" as Racing and Sport.
The advantage of 26″ wheels is their robustness and longer life time. They can be equipped with smooth and narrow tires as well as with MTB tires and front suspension fork. The variety of components and options is very wide. Just look into our price list.
---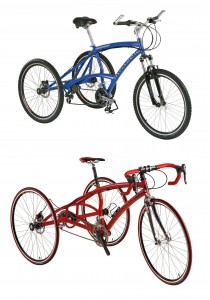 Tandemservis JUMBO / JUMBO RS
Both frames are pretty much the same, just components vary based on the type. You can have this trike in a touring version with 26″ wheels and front suspension or with 700c wheels and road racing bars almond with road components.
Both width of tracks are possible. 80cm as well as 90cm.
---
Tandemservis NAJA / NAJA RS
Our popular trike with a frame for ladies. Currently available in both touring and racing version. Components can be chosen according to our price list and the trike can be used for very fast road riding as well as for touring. It is also suitable for mentally disabled people who have problems to get on the bike.
Available with both tracks.
---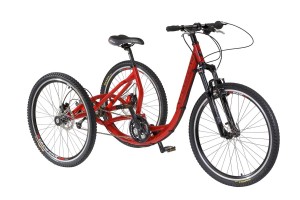 Tandemservis NAJA U
Tricycle with low step frame for easy getting on and getting off the bike. The frame is stiff enough for common riding on asphalt roads however for regular trips off the roads or even in terrain, we recommend the Naja or Jumbo trike.